SLEIGH Ride (NOV 14TH - MARCH 22TH)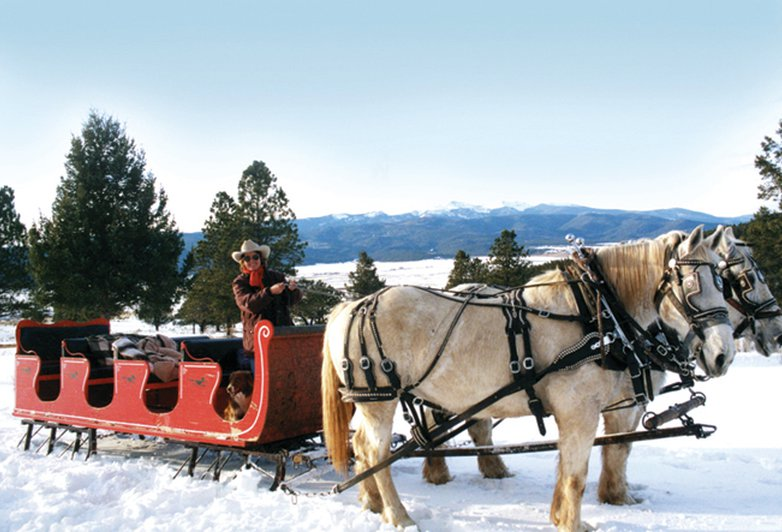 Duration: 40 Minutes
Location: Angel Fire, NM
Enjoy a scenic old-fashioned Sleigh ride. Available if plenty of Snow on the ground/trail.
As long as there is ample snowfall along trails, our winter sleigh rides begin at the Visitor Center 3365 Mountain view Blvd and travel along the foothills of the forest and throughout the Angel Fire Resort area. We stop for photo-ops and snow play if the guide determines it is of interest and safe. Our guests frequently see deer, elk, bunny rabbits, and other wildlife, and it's not uncommon to see hawks or Golden or Bald Eagle.
We invite our guests to enjoy hot chocolate, beverages and cookies with us at the Visitor Center 3365 Mountain View Blvd. next to the Lowe's Supermarket, before, during or after our excursions.

The ride consists of approximately forty minutes but we ask you allow one hour turn around.
Maximum number of people that can fit in ONE Sleigh is 15. However we can accommodate up to 28 people between our sleighs, depending on how many adults and children..

Remember if you would like to take this ride or any ride with just your group; you can always add the Private to your purchase. See below or on home page Private Tab.
Note: If no Snow, not to worry, ride will be changed to a Wagon Ride. Very similar Tour.
…… A 4P.M SLEIGH RIDE IS AVAILABLE with A GREAT STEAK DINNER to follow your Ride .... PURCHASE UNDER TOURS